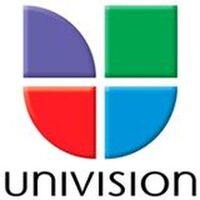 Univision
is a Spanish-language television network in the United States and Puerto Rico. It has the largest Latin American audience, largely due to repurposed telenovelas and other Mexican programs produced by Grupo Televisa. Joe Uva is the CEO of Univision Communications, Inc.
Univision is headquartered now in New York City, after years of being in Los Angeles,[1] and its major production facilities/operations are in Miami. It is available on cable in most of the country, with local stations in over 50 markets with sizeable Latino populations. Most of these stations air full local news and programming in addition to network shows. Univision's major programming is closed-captioned in Spanish, but unlike main competitor Telemundo, it almost never provides English subtitles.[citation needed]
The network was sold on March 29, 2007, to a consortium led by Haim Saban's Saban Capital Group (who had previously owned the entity Saban Entertainment), TPG Capital, L.P., Providence Equity Partners, Madison Dearborn Partners, and Thomas H. Lee Partners for $13.7 billion or $36.25 per share plus $1.4 billion in acquired debt. The buyout left the company with a debt level of twelve times its annual cash flow, which was twice the norm in buyouts done over the previous two years.